How to Grow Kumquats, Health Benefits and Best Cumquat Recipes
Kumquats, also called Cumquats in Europe, are native to the mountain areas of south-east Asia. They belong to the genus Fortunella. The edible Kumquat fruit resembles a miniature orange (Citrus sinensis), but the fruit is much smaller and oval shaped, about the size or a large olive or grape.
Kumquats are squat trees growing to a height of 8 to 15 ft (3.0 - 4.5 metres), depending on the variety. There are five varieties with different shaped fruits and mature tree sizes: 'Hong Kong Wild'; 'Marumi', or Round Kumquat; 'Meiwa', or Large Round Kumquat; and 'Nagami', or Oval Kumquat.
Nagami kumquat are the most commonly cultivated kumquat in the United States and Western countries, generally granted onto various rootstocks.
Kumquats can be grown in large pots and in small areas unsuitable for larger orange trees, but generally these plants are dwarfed using special rootstocks to keep them small.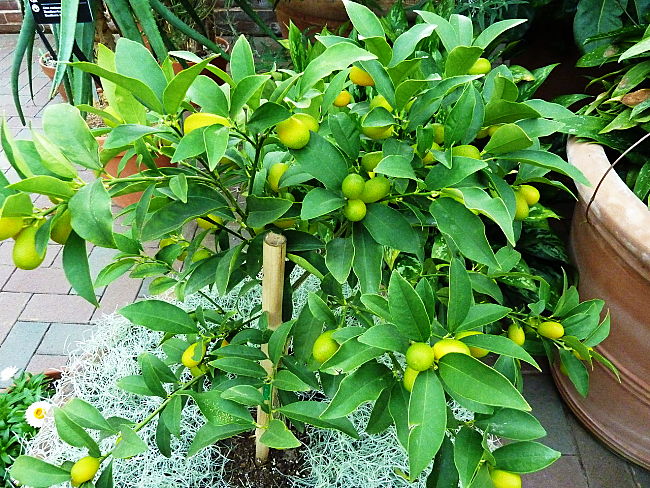 Despite their small size, kumquat are very prolific with each mature tree producing 30-50 fruits per year at the end of autumn. Kumquats are unique in the citrus group of fruits in that the peel is thin and edible. The fruit is eaten or processed a whole fruit or sliced with the peel attached. The seeds are bitter but harmless, and can be either be left in the mixture when making marmalade or sauces, or can be easily removed when the fruits are cut open or sliced. Eating the peel has many nutritional advantages. Citrus peel is rich in many vitamins and minerals that are lost when larger citrus fruits such as oranges and mandarins are peeled before before being eaten or used.
Kumquats fruits can be juiced as whole fruits providing a full quota of nutrients and goodness. You can remove the seeds or sieve the juice to remove seeds and peel remnants. If you have space in your garden, kumquats will reward you with their nice appearance and bountiful harvest.
This article showcases how to grow kumquats, their outstanding health benefits and nutrient and the best ever kumquat recipes for you to try.
The common 'Nagami' kumquat does best in warm areas with a long hot summer. They are generally frost tolerant, but do best in warmer regions. In the nursery choose plants that are grafted. Sometimes you can find plants that have special rootstocks for creating dwarf plants that are more suitable for pots or confined spaces.
Growing kumquat trees is easy, and they require less fuss than when growing oranges, mandarins, limes and lemons. They grow best in full sun in most soil types, with a variety of pH and organic contents. Kumquats are prone to root rot and so the soil needs to be well-drained and the plants should not be over-watered once they are established. Kumquats tolerate seaside conditions and they are frost tolerant, but do best in warm areas with long hot summers. Kumquat trees are regarded as appropriate for hardiness zones 9 and 10, as defined by the U.S. Department of Agriculture.
Like most citrus trees, Kumquats should be planted with organic matter deep below the root zone and covered with a layer of soil. Once the plants begin to grow that can 'feed' on the nutrients in the organic matter. Use a deep layer of mulch over the root zone to retain soil moisture, inhibit weeds and to provide an area for 'feeding' the trees as they grow. Rake the mulch back away from the trunk to stop the risk of collar rot.
Use fertilisers sparingly for the first 2-3 months, until the plant shows new shoots. Then apply organic manures such as cow manure and pelleted chicken fertilisers, or artificial citrus specific fertilisers. Kumquats do not require pruning, but the stray shoots from the grafted rootstock needs to be removed when they appear. You can prune to shape the canopy late in winter, or early in spring before flowering.
Heath Benefits of Kumquats Compared with Other Fruits
The table below compares nutrient data for kumquat with oranges, apples and blueberries (all for 100 g of whole fruit).
What are the advantages of eating kumquats whole, including the peel?
Kumquat peel is rich in fiber, vitamins, essential oils and anti-oxidants. Whole kumquats, with the peel, contains about 7 g of fiber which is 17% of daily-recommended levels. Peel is a rich source of vitamin C, vitamins A, vitamin E and B-group vitamins such as niacin. Peel is also rich in oils and minerals.
Key Benefits of Kumquats
Kumquats are relatively high in calories. About 100 g of fresh kumquats contain 71 calories, which is higher than in oranges (47 Cal), apples (50 Cal) and blueberries (57 Cal), but is similar to the calories in fresh grapes (67 Cal) (see table below).
Kumquats have the higher levels of fiber and protein than oranges and both apples and blueberries.
Similar to oranges, kumquats also are very rich in vitamin C compared with oranges and the other fruits. About 100 g kumquats provides 43.9 mg of Vitamin C (about 73% of the recommended daily allowance). Kumquat has higher levels of B-complex vitamins niacin, riboflavin, and pantothenic acid and Vitamin E and Vitamin A than the other fruit
Kumquats are a good source of minerals such as calcium, copper, potassium, manganese, iron and zinc.
Culinary Uses of Kumquats
Harvest the fruit when ripe and they are bright orange all over. They cannot be picked green or unripe and are best used when firm rather than soft.
Add fresh kumquat slices to fruit salads or snack fruit bowls
Kumquats make excellent marmalade, preserves and sauces
Kumquats make excellent juice and are simple to use as the fruit does not need to be peeled
Kumquats can be used in making fruit pies, cakes and desserts
Add kumquat slices to fresh salads and pizzas
Ripe kumquat fruit marked and ideal marinade for lamb, poultry, fish and seafood
Kumquat Recipes
Best Fresh Kumquat Marmalade Recipe
Ingredients
2 cups sugar
pinch of salt
5 1/2 cups water
2 lemons sliced very thinly and slices quartered
1 pound ( 500 g) kumquats, thinly sliced with seeds removed
Optional: Jam setter
Method
Place the lemon slices in a large non-reactive pot and just cover with water. Bring to the boil over moderate heat and then lower the heat and simmer until the slices are translucent (about 4-6 minutes). Remove the lemons slices, discarding the liquid. Return the lemons to the pot with the water and the sliced kumquats and water. Bring the mixture to the boil and simmer for 5 minutes and then remove from heat, cover, and set aside 24 hours. Then, on the next day add the salt and sugar to the pot, and cook the mixture while stirring often for 30-45 minutes over moderate temperature. Continue cooking the mixture until it has reached the jelling point, about 220 degrees F (104 degrees C) degrees, if using a candy thermometer. To test whether the marmalade will set, remove a teaspoon of the mixture and place on a put a plate that has been chilled in the freezer. Return to the freezer and check after several minutes. If there are signs the marmalade is ready, turn off the heat. If not, continue heating and test every 10-20 minutes. As a last resort add some jam setter. When it is ready spoon the mixture into clean jars and seal with covers. Keep in the refrigerator before use.
Fresh Kumquat Tagine Moroccan Stew Recipe
Ingredients
1 teaspoon salt
2 cups vegetable broth
1 1/2 tablespoons honey
1 teaspoon ground cumin
1 teaspoon ground cinnamon
1/8 teaspoon ground cloves
1 teaspoon ground coriander
2 onions, sliced very thinly
4 cloves garlic, finely chopped
1 can chickpeas, rinsed and drained
1/2 teaspoon freshly ground black pepper
1 tablespoon fresh ginger, finely chopped
1 tablespoon olive oil (extra-virgin referred)
2 pounds (1 kg) skinless, boneless chicken thighs chopped into medium size pieces
12 ounces (350 g) kumquats (about 2 cups), chopped into quarters, with seeds removed
Method
Preheat the oven to 375 degrees F (190 degrees C). Heat an oven proof casserole, fry pan or Dutch oven over medium heat, and add the oil. Heat until very hot and they fry the onions until translucent. Add the ginger and garlic and cook for about 60-90 seconds while stirring. Add the chicken and fry while stirring for about 8-10 minutes until the outside browns. Add the cumin, cinnamon, coriander, cloves, salt and freshly ground pepper and cook for a further minute. Add the broth, homey, kumquats and chickpeas and honey. Stir while heating to boiling point and then reduce the temperature to a simmer. Cover the pan or pot and bake in the preheated oven for about 1 hour until the chicken is cooking in the center. Can also be cooked in a slow-cooker.
Simple Upside-Down Cake with Fresh Kumquats
Ingredients
For the fruit layer
3/4 cup light brown sugar, packed
3 cups whole kumquats sliced into thirds, or thinly sliced, and then deseeded
3 tablespoons butter
For the cake layer
1/4 teaspoon salt
1 1/2 cups baking flour
3/4 cup granulated sugar
1 teaspoon vanilla extract
1 1/2 teaspoon baking powder
1/2 cup whole milk, warmed to room temperature
8 tablespoons butter warmed to room temperature
2 large free-range eggs, warmed to room temperature
Method
Preheat the oven to 350 degrees F (190 degrees C). To prepare the fruit layer, melt the butter in a cast iron skillet or heavy baking pan, add the brown sugar and cook while stirring with a wooden spoon until the mixture bubbles. Set the mixture aside and allow to cool. To prepare the cake batter, whisk the sugar into the butter in a small mixing bowl until fluffy. Mix in the vanilla essence and then blend in the eggs one at a time. Add the flour, salt and baking powder to a separate bowl. Then, add the flour mixture a little at a time to the egg mixture, alternating with portions of milk. Mix only until well combined. Mix and distribute the cooked kumquats in the skillet or pan that was prepared previously and greased, with the cut side of the fruit facing down. Pour the cake batter over the kumquats and spread evenly. Bake in the preheated oven for 30-45 minutes, or until a skewer inserted into the center of the cake comes out clean. Let cool for about 20 minutes and then flip the pan to remove the cake. Serve immediately.
Roasted Leg of Lamb with Kumquats and Fennel Recipe
Ingredients
salt to taste
12 kumquats, sliced
grated zest of 1 lemon
1-2 large fennel bulbs, sliced
3 cloves garlic, crushed
freshly ground black pepper
2-3 tablespoons of olive oil
1/2 cup finely chopped fresh rosemary
1 leg of lamb (about 6 lbs or 3 kg) with excess fat removed
1/2 cup of white wine
Method
Combine the lemon zest, rosemary, garlic and olive oil and rub over all surfaces of the lamb. Grease a baking pan and distribute the fennel and kumquat slices over the base with the white wine. Place the lamb on top and bake at 450 degrees F (230 degrees C) for 30 minutes, and then reduce to 350 degrees F (190 degrees C) and cook for a further 40 minutes. Add more white wine and stir the base, to prevent the kumquat from burning. Test to ensure the lamb is cooked to your liking in the center. Let rest for 10-20 minutes before carving and serving.
>
Spicy Pork Stir-Fry Recipe with Kumquat Slices and Green Onions
Ingredients
1 tablespoon sugar
1/2 cup chicken broth
1 teaspoon rice vinegar
1 tablespoon cornstarch
1 tablespoon oyster sauce
2 tablespoons hoisin sauce
1 1/2 tablespoons hot chili oil
2 teaspoons Chinese five-spice powder
1 pound pork meat cut into thin strips
2 tablespoons fresh ginger, finely chopped
5 ounces (140 g) kumquats, quartered, with seeds removed
Method
Stir the kumquats and sugar in small bowl and set aside for 30 minutes. Heat the oil in a wok or frying pan over high heat. When very hot, fry the ginger for about 60 seconds. Add the pork and stir-fry until pork is just cooked through. Add the kumquats, stir-fry briefly and then add the broth, sauces, five spice powder, vinegar and cornstarch dissolved in a little water. Mix until the sauce thickens and becomes glossy, about 1 minute. Season with soy sauce and pepper and serve immediately.
Table 1. Nutrient Data for Kumquats Compared with Apples, Oranges and Blueberry
| Nutrient (100 g serving) | Kumquat Fruit (100 g ) | Orange Fruit (100 g) | Apple Fruit (100 g) | Blueberries (100 g) |
| --- | --- | --- | --- | --- |
| Energy | 71 Kcal | 47 Kcal | 50 Kcal | 57 Kcal |
| Carbohydrates | 15.90 g | 11.75 g | 13.81 g | 14.49 g |
| Protein | 1.88 g | 0.94 g | 0.26 g | 0.74 g |
| Total Fat | 0.86 g | 0.12 g | 0.17 g | 0.33 g |
| Cholesterol | 0 mg | 0 mg | 0 mg | 0 mg |
| Dietary Fiber | 6.5 g | 2.40 g | 2.40 g | 2.4 g |
| Vitamins | | | | |
| Folates | 17 µg | 30 µg | 3 µg | 6 µg |
| Niacin | 0.429 mg | 0.282 mg | 0.091 mg | 0.418 mg |
| Pantothenic acid | 0.208 mg | 0.250 mg | 0.061 mg | 0.124 mg |
| Pyridoxine | 0.036 mg | 0.060 mg | 0.041 mg | 0.052 mg |
| Riboflavin | 0.090 mg | 0.040 mg | 0.026 mg | 0.041 mg |
| Thiamin | 0.037 mg | 0.100 mg | 0.017 mg | |
| Vitamin A | 290 IU | 225 IU | 54 IU | 54 IU |
| Vitamin C | 43.9 mg | 53.2 mg | 4.6 mg | 9.7 mg |
| Vitamin E | 0.15 mg | 0.18 mg | 0.18 mg | 0.57 mg |
| Vitamin K | 0 µg | 0 µg | 2.2 µg | 19.3 µg |
| Electrolytes | | | | |
| Sodium | 10 mg | 0 mg | 1 mg | 1 mg |
| Potassium | 186 mg | 169 mg | 107 mg | 77 mg |
| Minerals | | | | |
| Calcium | 62 mg | 40 mg | 6 mg | 6 mg |
| Copper | 0.095 mg | 39 µg | | |
| Iron | 0.86 mg | 0.10 mg | 0.12 mg | 0.28 mg |
| Magnesium | 20 mg | 10 mg | 5 mg | 6 mg |
| Manganese | 0.135 mg | 0.024 mg | | 0.336 mg |
| Zinc | 0.17 mg | 0.08 mg | 0.04 mg | 0.16 mg |
| Phyto-nutrients | | | | |
| Carotene-ß | 0 µg | 71 µg | 27 µg | 32 µg |
| Carotene-α | 155 µg | 11 µg | | |
| Cryptoxanthin-ß | 193 µg | 116 µg | 11 µg | |
| Lutein-zeaxanthin | 129 µg | 129 µg | 29 µg | 80 µg |