Seed Planting Depths, Light and Other Needs To Germinate
While most seeds germinate under the soil, provided they have moisture and the right temperature, some seeds have special requirements. Some seeds need light exposure to germinate. Covering them with soil will stop them sprouting. Some seeds have special needs to trigger germination such as scratching of the outer coating of the seed, smoke essence and temperature variations such as exposure to frosts.
The general rule is to plant a seed at a depth equivalent to three times its width of thickness. However, seeds requiring light need to be simply pressed into the surface of the soil, and not covered with soil, so that they are exposed to light.
See:
Combining seed tape, baggies and heated bed methods for early seed germination - A new method to enhance germination for difficult plants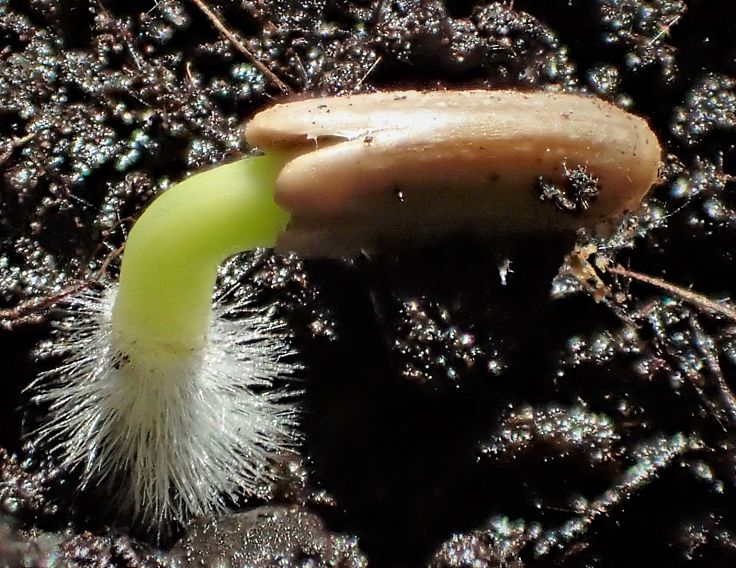 Seeds of Flowering Plants Needing Light to Germinate
Coleus
Savory
Begonia
Lobelia
Poppies
Ageratum
Geranium
Petunias
Browallia
Columbine
Impatiens
Nicotiana
Gaillardia
Snapdragons
Osteospermum
Balloon flower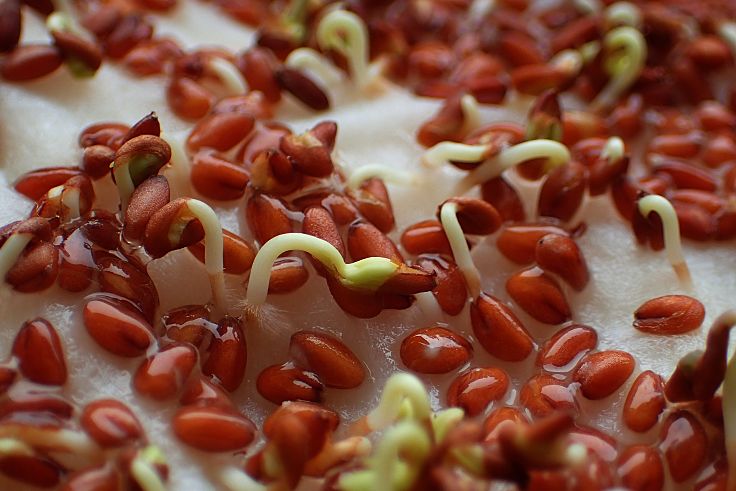 Vegetable Seeds Requiring Very Shallow Planting
Once again covering the seeds with a thin layer of fine vermiculite, mixed with course sand keeps the seeds moist and helps keep the seeds in place when you water them.
Kale
Leeks
Melons
Cabbage
Peppers
Broccoli
Kohlrabi
Squashes
Tomatoes
collards,
Cucumbers
Eggplants
Cauliflower
Chinese cabbage
Brussels sprouts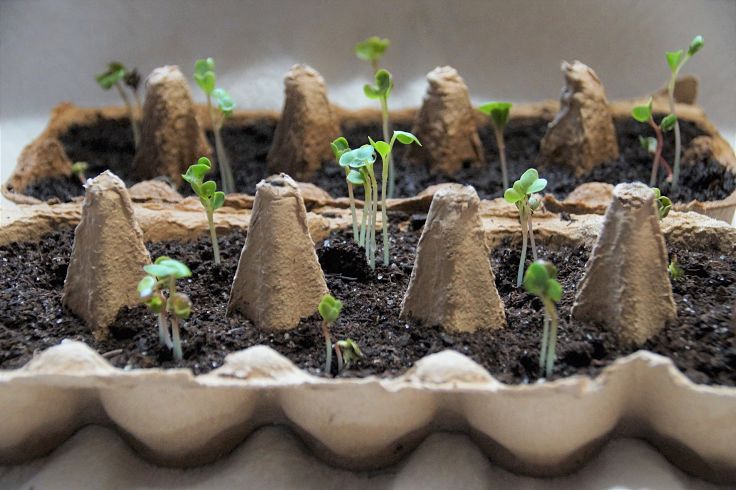 Vegetable Seeds Best Soaked in Water Before Planting
Some seeds germinate quicker and more reliable if they are soaked in water for several minutes before they are sowing. Large seeds, seeds with wrinkled coats, and seeds with hard outer skins germinate better if they are soaked in water prior to planting.
Place these seeds on a damp paper towel, in a shallow bowl or jug of warm water. Alternatively you can set them aside in a sealed plastic bag containing some water, to absorb the moisture. Adding several drops of vinegar to the water boosts the process. The acidity of the vinegar helps breakdown the outer seed covering. Soak smaller seeds for an hour of so, and larger seeds overnight.
Seeds that benefit from soaking before planting include:
Corn
Okra
Peas
Beet
Beans
Squash
Carrots
Parsley
Pumpkins
Asparagus
Swiss chard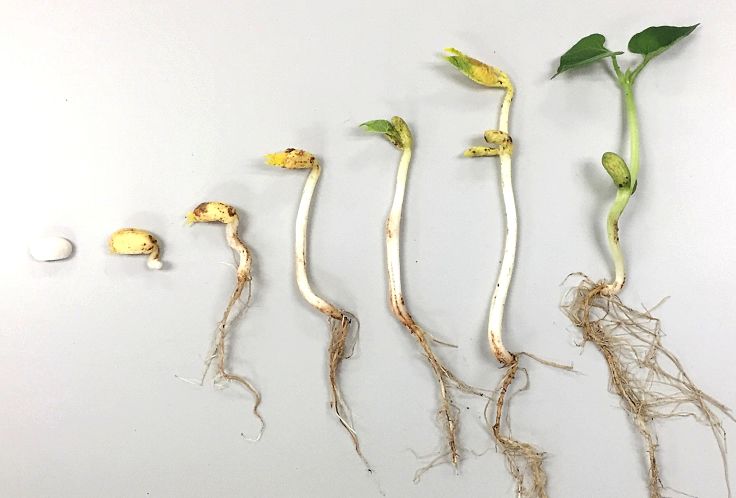 Seeds that Need to be Abraded, Scratched of Nicked (Scarified) to Promote Germination
Certain seeds with a very hard outer covering will germinate more reliably and quicker if the seed coat is abraded before sowing. You can use coarse sand paper and file or rasp, or gently scratch or nick the outer skin with a knife, before soaking them in water, or planting them. This process is known as scarification. Do not puncture the outer seed covering, or damage the inside of the seed as this can kill the seed embryo.
Seeds that can benefit from scarification before planting include:
Melons
Beans
Squashes
and many native plants in Australia and other countries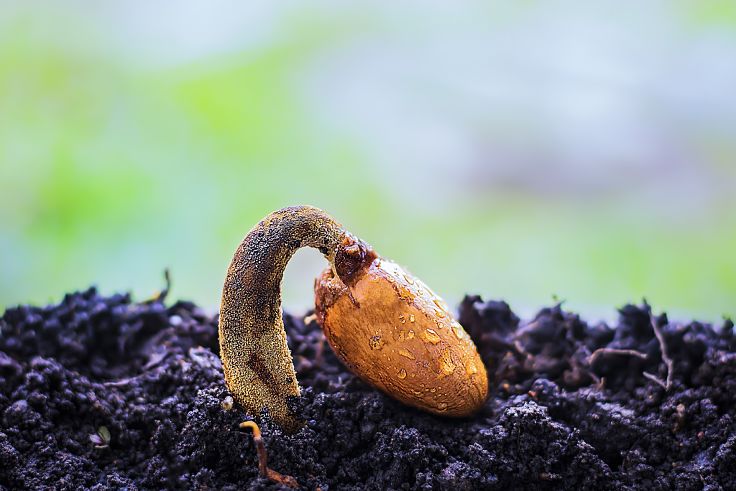 Seeds that Require Heat, Ash or Smoke from Brush Fires to Germinate
Research in Australia has shown that the trigger for germinating native plant seeds after a brush fire is not so much the heat and ash from a fire, but rather the smoke from the fire. Smoke is now widely used in bushland management, nursery production and mine-site restoration. Home gardeners can purchase smoke and essence powder which can be added to the water seeds and soaked in.
See:
Smoke Germination of Australian Plants
Seeds that Germinate Best in Cool Soils
Many cool-season vegetables have genetically adapted to germinate best in cool rather than warm soils. This means that they sprout ready to grow as the temperatures cool down in autumn.
Seeds best planted early in cool soil include
Kale
Peas
Leeks
Onions
Radish
Arugula
Cabbage
Carrots
Lettuce
Mustard
Parsley
Parsnip
Spinach
Turnips
Broccoli
Collards
Kohlrabi
Cauliflower
Garden cress
Chinese cabbage
Brussels sprouts
Herbs that require early planting in cool soils include:
Dill
Thyme
Borage
Chervil
Marjoram
Chamomile
Coriander
Seeds that Need to be Directly Planted in Garden Beds, Poor Response to Transplanting
Some seedlings have long or quick growing roots that get disturbed when trying to transplant after sowing in seed trays.
Vegetables and herbs less suitable for transplanting include:
Dill
Peas
Anise
Beans
Borage
Fennel
Radish
Arugula
Carrots
Chervil
Parsley
Spinach
Turnips
Mustard,
Parsnips
Rutabaga
Coriander
Swiss chard
Seed Planting Depths for Vegetables, Herbs and Flowering Plants
The tables below provide a guide for the depth to plant seeds of Vegetables, Herbs and Flowering Plants
Seed Planting Depths for Vegetables (mm and inches)
| | | |
| --- | --- | --- |
| VEGETABLE | Depth (mm) | Depth (inches) |
| Amaranth | 5 | 1/5 |
| Artichoke | 6 | 1/5 |
| Asparagus | 10 | 1/3 |
| Bean, Broad | 40-50 | 1 1/2 to 2 |
| Bean, Bush | 20-30 | 1 |
| Bean Climbing | 20-30 | 1 |
| Beetroot | 20-30 | 1 |
| Broccoli | 6 | 1/5 |
| Brussels Sprouts | 6 | 1/5 |
| Burdock | 15 | 1/2 |
| Cabbage | 6 | 1/5 |
| Cabbage, Chinese | 6 | 1/5 |
| Cape Gooseberry | 4 | 1/6 |
| Capsicum | 4 | 1/6 |
| Carrot | 4 | 1/6 |
| Cauliflower | 6 | 1/5 |
| Celeriac | 4 | 1/6 |
| Celery | 4 | 1/6 |
| Chilli | 4 | 1/6 |
| Corn, Sweet | 15-25 | 1/2 to 1 |
| Cress | 4 | 1/6 |
| Cucumber | 10 | 1/3 |
| Eggplant | 4 | 1/6 |
| Endive | 5 | 1/5 |
| Kale | 10 | 1/3 |
| Kohl Rabi | 6 | 1/5 |
| Leek | 4 | 1/6 |
| Lettuce | 5 | 1/5 |
| Mizuna | 6 | 1/5 |
| Mustard | 6 | 1/5 |
| Okra | 10 | 1/3 |
| Onion | 5 | 1/5 |
| Parsnip | 5 | 1/5 |
| Pea | 20-30 | 1 |
| Pumpkin | 15-20 | 1/2 to 1 |
| Radish | 15 | 1/2 |
| Rhubarb | 10 | 1/3 |
| Rockmelon | 15 | 1/2 |
| Rocket | 4 | 1/6 |
| Rosella | 10-15 | ¼ to 1/2 |
| Silverbeet | 10 | 1/3 |
| Spinach | 8 | 1/3 |
| Squash | 15-25 | 1/2 to 1 |
| Swede | 10 | 1/3 |
| Tomato | 5 | 1/5 |
| Turnip | 10 | 1/3 |
| Watermelon | 15-20 | 1/2 to 1 |
| Zucchini | 15-20 | 1/2 to 1 |
Seed Planting Depths for Herbs (mm and inches)
| | | |
| --- | --- | --- |
| HERBS | Depth (mm) | Row Spacing (cm) |
| Anise | 6 | 1/5 |
| Basil | 3 | 1/10 |
| Bergamot | 3 | 1/10 |
| Borage | 10 | 1/3 |
| Burnet | 8 | 1/3 |
| Calendula | 10-15 | ¼ to ½ |
| Caraway | 10 | 1/3 |
| Catnip | 5 | 1/5 |
| Chamomile | 1 | 1/10 |
| Chervil | 6-10 | 1/5-1/3 |
| Chives | 5 | 1/5 |
| Coriander | 6 | 1/5 |
| Cress | 4 | 1/5 |
| Cumin | 5 | 1/5 |
| Dill | 2-4 | 1/10 |
| Echinacea | 6 | 1/5 |
| Evening Primrose | 1 | 1/10 |
| Fenugreek | 10 | 1/3 |
| Hyssop | 6 | 1/5 |
| Lemon Balm | 3 | 1/10 |
| Lovage | 6 | 1/5 |
| Marjoram | 5 | 1/5 |
| Mint | 2 | 1/10 |
| Nasturtuim | 10-15 | ¼ to ½ |
| Oregano | 5 | 1/5 |
| Parsley | 4 | 1/6 |
| Rosemary | 3 | 1/10 |
| Rue | 5 | 1/5 |
| Sage | 5 | 1/5 |
| Savory | 3 | 1/10 |
| Sorrel | 5 | 1/5 |
| Tarragon | 1 | 1/10 |
| Thyme | 3 | 1/10 |
| Yarrow | 1 | 1/10 |
Seed Planting Depths for Flowering Plants (mm and inches)
| | | |
| --- | --- | --- |
| FLOWERING PLANT | Depth (mm) | Depth (inches) |
| Alyssum | 3 | 1/10 |
| Amaranth | 5 | 1/5 |
| Aquilegia | 3 | 1/10 |
| Aster | 5 | 1/5 |
| Brachycome | 3 | 1/10 |
| Calendula | 10-15 | ¼ to ½ |
| Californian Poppy | 3 | 1/10 |
| Candytuft | 5 | 1/5 |
| Canterbury Bells | 3 | 1/10 |
| Carnation | 6 | 1/5 |
| Cosmos | 10-15 | ¼ to ½ |
| Dahlia | 10-15 | ¼ to ½ |
| Dianthus | 3 | 1/10 |
| Forget Me Not | 3 | 1/10 |
| Four 'O' Clocks | 10-15 | ¼ to ½ |
| Foxglove | 3 | 1/10 |
| Godetia | 5 | 1/5 |
| Gypsophila | 5 | 1/5 |
| Hollyhock | 8 | 1/3 |
| Honesty | 6 | 1/5 |
| Impatiens | 5 | 1/5 |
| Larkspur | 3 | 1/10 |
| Lavender | 3 | 1/10 |
| Linaria | 3 | 1/10 |
| Livingstone Daisy | 3 | 1/10 |
| Lobelia | 1 | 1/10 |
| Marigold African | 8-12 | 1/5 to ¼ |
| Nasturtium | 10-15 | ¼ to ½ |
| Nigella | 3 | 1/10 |
| Pansy | 6 | 1/5 |
| Petunia | 3 | 1/10 |
| Phlox | 3 | 1/10 |
| Poppy | 3 | 1/10 |
| Snapdragon | 3 | 1/10 |
| Statice | 3 | 1/10 |
| Stock | 3 | 1/10 |
| Stock, Virginian | 6 | 1/5 |
| Sunflower | 8-12 | 1/5 to ¼ |
| Sweetpea | 10-20 | ¼ to ¾ |
| Verbena | 6 | 1/5 |
| Viola | 6 | 1/5 |
| Wallflower | 6 | 1/5 |
| Zinnia | 6 | 1/5 |
Related Articles